The Hall of Fame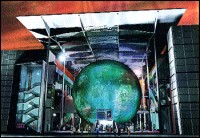 The following are brief notes on the initial designs for the actual Hall Of Fame itself, the hallowed place where the greats of football will be commemorated through the voting system. Design and concept is by MJ Cashman of John Hart Design Consultants who are attached to the project.
Hall Of Fame The Entrance Tunnel
The entrance tunnel to the Hall Of Fame will be a short journey of anticipation. It will evoke memories of the past and present and, above all, it will touch the imagination as names and great moments would echo within the dark surround
The entrance tunnel will be like walking through a dark void with a bright, attracting light at the end

Hung or suspended within the dark sides and spotlit will be exhibits relating to the players from around the world. Shirts, headlines, photographs, all enhanced by hearing short clips of commentary in different languages relating to individuals great moments. This will be a continuous loop presentation, so that visitors can always hear something different, no matter how many times they visit

The tunnel will also give a feeling of walking from the 'bowels' of a great stadium out into the arena - The Hall Of Fame
The Hall Of Fame
Upon entering the Hall Of Fame the visitor will instantly feel as though they have entered a place of 'reverence'. A cathedral of football, reflecting a 'hallowed' quality in keeping with the great names and the arenas they played in
A retro science-fiction style will create a high-vaulted ceiling, constructed of steel, glass and bronze-plate embracing arms - "The Guardians Of The Heroes". They appear to curve over a central exhibit, a giant revolving globe. Off from the 'arms' a series of bays are created, allowing for individual 'homage' to the greats

The globe will slowly revolve, with the names of the greats projected on it. Their faces and the man in action will be shown via an internal projection

The bays will allow access to further detail, exhibits, video of the greats in action and interviews

Presented in an electronic form, this allows for continuous updating and revision - ensuring the visitor a whole new set of information on each visit
The Hall Of Fame "Glory Shrines"
Within the "Glory Shrines" (the bays surrounding the central feature) there will be an opportunity to access more information on the Hall Of Famers. Each bay will house an exhibit and detailed information on a number of names. By inserting a smart card the glass in front of the screen will be activated, becoming an opaque screen on to which the video of the visitor's choice will be projected. Creating a magical moment within the shrine to go along with a magical player.
You can read all about the PROJECT UPDATES in the Worldview News section.
Design by: MJ Cashman / John Hart Design Consultants
Dunedin House
The Mews
Wharf Street
Godalming
Surrey GU7 1NN
Voice: (01483) 419900
Fax: (01483) 419494